Here is How You Can Make Waffle Cone at Home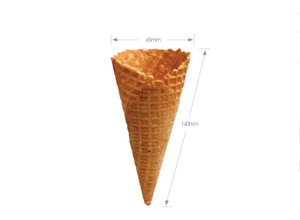 Not surprisingly, everyone in the world loves to eat ice cream; whether just a scoop or on a waffle cone, they just always taste better. Talking of the classic waffle cones that have gained a lot of popularity because of their taste and attractive design. It might appear as a chef's expertise, but what if we tell you that you can enjoy the exact ice cream parlour flavours at home? Waffle cones can be used to serve all desserts, from basic ice cream to chocolate fudge. Moreover, with food creativity on hype, you can also combine them with savoury items like cheese, chicken or seafood. These cones are relatively sturdier and don't turn soggy faster. So they are certainly the best alternative to traditional paper and sugar cones. 
Another fun fact about waffle cones is that they are flexible and can be eaten when you are on a diet; you can go for healthy flour options like almond or any other gluten-free flour. But if you are planning to make a normal cone that goes best with ice cream, here is what you need: Let us begin with the process. Grab all the ingredients:
2/3 of All purpose flour

1/2 cup Sugar

4 tbsp Butter

1/4 tsp Salt

1/4 cup Milk

2 Eggs 
Tools you need
Waffle cone maker

Waffle cone roller 
Procedure
Take a small bowl and mix flour and salt, and set it aside. 

Take another bowl, add eggs and sugar and mix it until the texture and colour change. This can take around 1-2 minutes. 

Next, add the flour mixture to it, whisk and mix until fully combined. The product will be a thick batter or almost a dough-like consistency at this stage. 

Next, add milk and melted unsalted butter to the mixture and mix it until the batter becomes loose enough for the perfect waffle cone. Now that the batter is ready, it's time to begin making the cones.

Preheat a waffle-cone maker. Read the instruction manual and set the timer accordingly. The crispness and colour of your cone will depend on your heat setting. Therefore always follow the manufacturer's guidelines. 

Onto the waffle-cone maker, pour 1/4 cup of batter and spread the batter evenly over the surface using an offset spatula. Cover the lid and wait for a minute. After one minute, lift the lid and check if the waffle is cooked. If not, wait for another 30 seconds and more until the colour and texture appear.

As soon as it is done, take out the waffle and, using a waffle cone roller, mould the hot and soft round sheet into a cone. Set the cone aside on parchment paper and let it harden. 

Once done, you can enjoy it with whatever treats you like.
Now this can serve your family, but what if you are hosting a party? There is hardly much time to prepare so many waffle cones, especially when you have other chores and preparations to do. SG Packaging in Australia is one such service that can deliver the best and freshly waffle cones made with care and hygiene to your address at wholesale prices. Connect with us today.